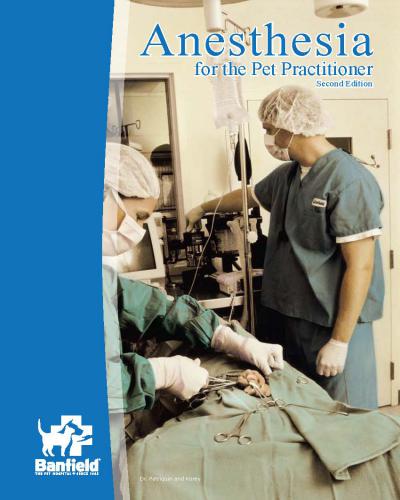 Anesthesia for the Pet Practitioner Second Edition
Anesthesia for the Pet Practitioner began more than a decade ago as a loose collection of notes on our protocols. It evolved into a manual designed as a job aid for our doctors and then took on a life of its own when we started sharing it with the profession.
Anesthesia for the Pet Practitioner Second Edition
Our goal is to present our most current thoughts, policies and standards on anesthesia in a user-friendly format. As such, you will notice that most of this handbook is in outline form and is intended to be an easy-to-use guide and not a definitive source of all available information on anesthesia.
This second edition includes several new topics such as fluid therapy and pain management, as we learned that more information on these subjects was needed. We hope this handbook will be helpful. It will constantly evolve as we strive to continually improve our anesthetic outcomes.
When considering which anesthesia methodologies you are going to adopt for your practice, the question should be asked, "How do you determine quality for anesthesia?" If practitioners agree that improved case outcomes are a good measure of quality for anesthesia, then we have a starting point to develop standards of practice for anesthesia in general practice. Better quality is positive for the profession as a whole and for the Pets we treat.
Quality anesthesia can be measured in a number of ways. The primary method chosen by Ban field is mortality rate. All anesthesia-related deaths are taken through our peer review process, and many of these cases also have necropsy results. This provides data on a large enough sample size to identify patterns that affect mortality. The same factors that affect mortality likely also affect morbidity; thus, reducing mortality will hopefully reduce morbidity.
[expand title=" "]
[/expand]
Password: pdflibrary.net