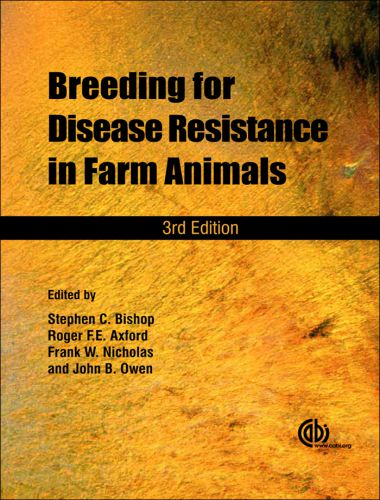 Breeding for Disease Resistance in Farm Animals 3rd Edition
Breeding for Disease Resistance in Farm Animals 3rd Edition by Stephen C. Bishop, Roger F. E. Axford. This new edition provides an updated review of the principles of animal breeding for advanced health and disease resistance.
Breeding for Disease Resistance in Farm Animals 3rd Edition
Authored by experts, it uses examples covering many diseases of importance to livestock production across all major livestock species. Topics include techniques and approaches, viruses, Transmissible Spongiform Encephalopathies (TSEs), bacteria, parasites, vectors, and broader health issues seen in production systems, including metabolic diseases.
Breeding for improved disease resistance has become perhaps the major challenge facing animal geneticists. The benefits of successfully improving the resistance of animals to an infectious disease are manifold, including improved animal welfare, increased efficiency and productivity, and hence a reduced environmental footprint, reduced reliance on other disease-control measures and improved public perception.
However, breeding for disease resistance raises many technical challenges. Further, despite its apparent benefits, its sustainability is often questioned due to the potential of pathogen or parasite evolution; and the role of host genetics within integrated disease-control systems is often unclear. This 3rd edition of Breeding for Disease Resistance in Farm Animals addresses many of the pertinent questions relating to the role of host genetics in disease control, with a number of case-specific scenarios explored.
When considering breeding for disease resistance, it is necessary to be clear and consistent in the concepts and terminology being used, to ensure that readers from disparate disciplines have a common level of understanding of the topic. This Introduction covers many of the broad concepts necessary for all readers to appreciate the topic, with a particular focus on recent developments in genomics and their application to disease genetics. We hope it will make the individual chapters more enjoyable.
[expand title=" "]
Password: pdflibrary.net
[/expand]