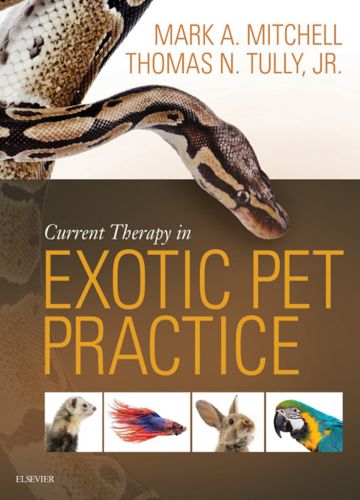 Current Therapy in Exotic Pet Practice 1st Edition
Current Therapy in Exotic Pet Practice 1st Edition
---
By Mark Mitchell, Thomas N. Tully, Year 2016, File Type: PDF
This brand-new, full-color reference is a foundational text for veterinarians and veterinary students learning about companion exotic animal diseases. Organized by body system, Current Therapy in Exotic Pet Practice walks students through the most relevant information concerning the diagnosis and treatment of exotic animals ― including the most relevant information on anatomy, physical examination, diagnostic testing, disease conditions, therapeutics, epidemiology of diseases, and zoonoses. Topics such as captive care, current standards of care for all exotic species, veterinary clinical epidemiology, and the effective prevention and management of infectious diseases are also included.
Expert guidance on treating various disease conditions provides authoritative support for veterinarians who are less experienced in companion exotic pet care.
Renowned authors and editors carefully selected topics of real clinical importance.
Detailed coverage on how to identify and treat diseases (from common to rare) helps alleviate apprehension a veterinarian may feel when treating an unfamiliar species.
Includes the latest information from the current scientific literature and addresses hot topics associated with treating companion exotic animals today.
Vivid full-color images demonstrate the unique anatomic and medical features of each group of animals covered.
Current Therapy in Exotic Pet Practice is a completely new book and is in a format different from that of the Manual of Exotic Pet Practice. The coeditors wanted a companion text to Manual of Exotic Pet Practice, and they feel this goal has been achieved.
While the Manual of Exotic Pet Practice is relevant and useful as ever, Current Therapy in Exotic Pet Practice expands on the description and underlying aspects of disease conditions reported in companion exotic animal species. The complete set of exotic pet texts allows one to find information that will be applicable to both simple and complex case presentations, including those that provide a moderate amount of difficulty in treating.
The advancement of veterinary medical knowledge is increasing at a rapid pace, but not faster than that of companion exotic animal medicine. When treating these animals, to have optimum success requires providing quality veterinary care. Get More: Handbook of Exotic Pet Medicine
Of course there are secondary options that reduce the veterinarian's ability to properly diagnose and treat, but this is an owner's decision. In order to communicate and inform the owner of the recommended course of action, a veterinarian must be knowledgeable of the subject involved.
Owners who have confidence in a veterinarian's knowledge and under-standing of the patient's condition will be more likely to follow the primary recommendations for disease diagnosis and treatment. This confidence in the veterinarian may begin with the physical examination through handling of the patient and extend to treatment recommendations and prognosis for recovery. Current Therapy in Exotic Pet Practice is an excellent resource for veterinarians to use when contemplating recommended diagnostic and treatment options for their patients.
As mentioned, this veterinary medical text is different from any previously published in its scope and depth of body system information related to companion exotic animal species. This book alone will not be able to save a patient, but requires the important addition of quality veterinary care; together, they can give the companion exotic animal patient the best chance of living a long, happy, healthy life.
[expand title = ""]
Book Name:

Exotic Animal Medicine: A Quick Reference Guide 2nd Edition

Buy Now

:

Amazon

 

Download Now

:

Click Here

Password

: PDFLibrary.Net
[/expand]