Current Veterinary Therapy – Food Animal Practice
Current Veterinary Therapy – Food Animal Practice, Written by leading food animal researchers, practitioners, and educators, this comprehensive guide provides quick access to the latest medical and surgical interventions for cattle, sheep, and goats.
Current Veterinary Therapy – Food Animal Practice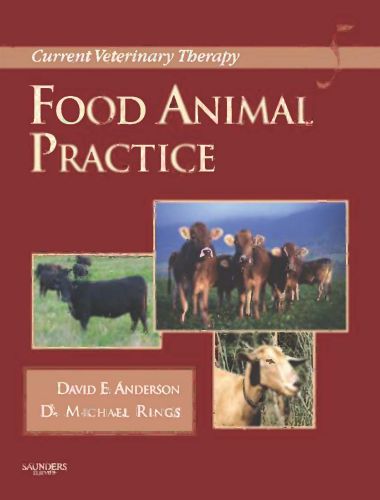 The concise, quick-reference format and logical body systems organization make it ideal for use in both the clinical setting and the field. You'll easily locate key information on preventing, treating, and managing disease in food animals, as well as expert insights on improving outcomes for individual animals and herd populations.
We are proud to offer this book, the fifth volume of Current Veterinary Therapy: Food Animal Practice. Although the veterinary textbook market has expanded tremendously in recent years, Current Veterinary Therapy has long been a favorite of practitioners because it offers current, concise information for busy veterinarians who need answers fast. This tradition of excellent service from Current Veterinary Therapy: Food Animal Practice was developed by Dr. Jimmy Howard. Although this volume is structured slightly differently from previous volumes, we are confident that the tradition of concise, state-of-the-art information continues.
The fifth volume in the Current Veterinary Therapy series represents a new start with a new editorial team. In continuing from previous volumes, readers will find that topics merely needing an update are brief and areas that justified expansion are afforded more space. New information has been added; for example, this volume contains considerably more surgery topics compared with previous volumes.
A striking difference from previous volumes is the absence of swine information, except in Section X, Ophthalmic Examination Techniques. We believe that swine medicine has become a highly focused and specialized area of veterinary medicine and does not easily meld into a textbook oriented toward ruminants. Therefore, topics in this volume emphasize beef and dairy cattle diseases and boast new, cutting-edge information regarding cow-calf and stocker/feedlot topics.
Another expansion of content in this fifth edition is a focus on pain management and clinical pharmacology. The food animal industries face mounting societal pres-sure to address animal well being, pain, and food safety. We hope that the sections dedicated to pharmacology and anesthesia will assist practitioners in serving the interests of their clients.
[expand title=" "]
Password: pdflibrary.net
[/expand]