Diseases of Poultry 14th Edition
Diseases of Poultry 14th Edition by David E. Swayne, Martine Boulianne, Catherine M. Logue, Larry R. McDougald, Venugopal Nair, David L. Suarez November 2019
Diseases of Poultry 14th Edition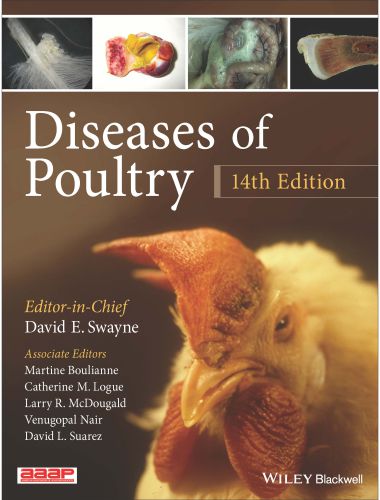 The most complete and definitive reference to all aspects of poultry diseases, Diseases of Poultry, Fourteenth Edition has been fully revised and updated to offer a comprehensive survey of current knowledge.
Updates the definitive reference of poultry health and disease
Provides more clinically relevant information on management of specific diseases, contributed by clinical poultry veterinarians
Offers information on disease control in organic and antibiotic-free production
Presents more concise, streamlined chapters for ease of use
Incorporates advances in the field, from new diagnostic tools and information to changes brought about by the increasing globalization and the re-emergence of zoonotic pathogens
This 14th edition represents a continuation of the tradition established earlier of providing the latest information on poultry diseases. Earlier trends of expansion of authorship to include authors from around the globe were continued in this edition, as was the appointment of our second non‐USA Associate Editor, Martine Boulianne. The Preface was updated and expanded to a more comprehensive review of the history of Diseases of Poultry, including valuable new metric data.
All of the book chapters were updated with the most current and accurate knowledge and many with new figures, especially color figures of gross lesions. Much of the historical information and antiquated or historical diagnostic tests were removed and readers are referred to prior editions for in‐depth coverage. A new subchapter on Disease Prevention and Control in Antibiotic‐Free Production was added to Principles of Disease Prevention, Diagnosis, and Control, (Chapter  1). New subchapters were added to Chapter  33, Emerging Diseases and Diseases of Complex or Unknown Etiology: (1) White Chick Syndrome, (2) Focal Duodenal Necrosis in Table Egg Layers, (3) Wooden Breast and Other Muscle Abnormalities, and (4) Idiopathic Egg Production Drops in Brown Layers.
Major revisions were accomplished for Chicken Infectious Anemia and Circovirus Infections in Commercial Flocks, Avian Reovirus Infections, Marek's Disease, Salmonella Infections, Mycoplasmosis, and Coccidiosis.  This has improved the field relevancy of the book.
[expand title=" "]
Password: pdflibrary.net
[/expand]