Invertebrate Embryology and Reproduction 1st Edition
---
deals with the practical and theoretical objectives of the descriptive embryology of invertebrates, along with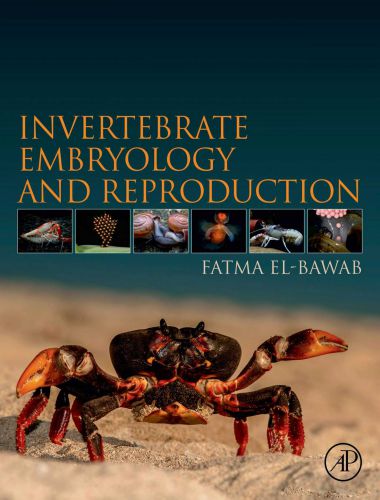 discussions on reproduction in these groups of animals. It explains several morphological and anatomical expressions in the field and covers the embryology of invertebrate animals, starting from the Protozoa, to the Echinodermata, the Protochordate and Tunicates.
These groups include economically important aquatic invertebrates, such as crustaceans, as well as medically important invertebrates and economic arthropods. Each chapter is preceded by the taxonomy of the discussed phylum and/or the species to enable the reader to locate the systematic position.
Covers phylum definition, general characteristics, classification, reproduction, agametic reproduction, gametic reproduction, spawning, fertilization, development and embryogenesis
Includes recent findings in the area, along with detailed figures and photos that illustrate important concepts
Brings together difficult-to-obtain research data from the field, not only in Egyptian libraries, but globally, and previously only found through specialized references not widely available
Clarifies descriptions with striking photos and electron microscopical studies of different species
This book therefore gathers all the information dealing with descriptive invertebrate embryology and updates this information in a single source, as a basic reference for teaching courses and research. The difficulty of obtaining teachable or research data in the field of descriptive embryology, not only in the Egyptian libraries but every-where, demonstrated the need for a new work that collates all the available data concerning that field. The collection herein is sought from specialized references, in addition to general textbooks in reproduction, carried out by a professional expert in that field.
Download More: Reproduction in Domestic Animals
It includes the description of embryology of newly studied species in most of the phyla, together with their systematic positions, and the results obtained from different researches using advanced techniques and different procedures, especially electron microscopical ones. It is specific to descriptive invertebrate embryology, including numerous invertebrate species. I hope that this effort will provide a coherent integrated ac-count of the field that I attempted to cover, to the satisfaction of the reader.
[expand title=" "]
Book Name: Invertebrate Embryology and Reproduction 1st Edition
File Type: PDF
Download: Link
Size: 92 MB
Password: PDFLibrary.Net
[/expand]