This Book Is First Of Its Kind On Poultry Diseases Written In Pakistan. It Is A Practical Manual On Poultry Diseases Which Every Practicing Veterinarian, Student, Poultry Farm Owner And Diagnostic Laboratory Would Like To Have.
Manual for the Treatment of Poultry Disease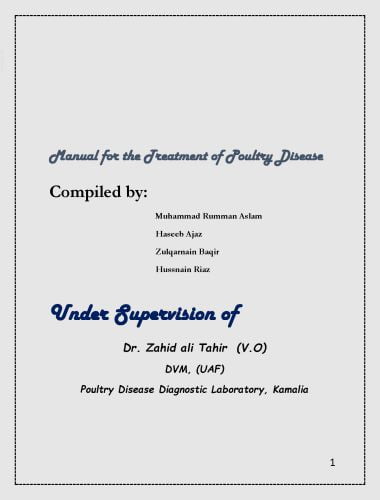 The Book Gives Practical Information On The Diseases Of Poultry Including Ducks In Pakistan. The Book Is Unique One Because It Not Only Gives Theoretical Information About Poultry Diseases But Also Practical Approach In The Form of disease Tracing Charts On The Basis Of Symptoms Postmortem Findings, Biological Tests Etc. Its Contains these diseases: –
Bacterial diseases
Viral Diseases
Fungal diseases
Mycotoxins
Parasitic diseases (Ectoparasites)
Deficiency diseases
Others
Gastrointestinal impaction
Vaccination Schedule for broilers
Vaccination schedule for layer
There Is Also A Section On The Modern Laboratory Methods Of Poultry Disease Diagnosis. The Third Section Deals With The Treatment Aspects. The Treatment Part Has Been Tabulated Into Various Groups Of Medicines Available In All over the world And Their Doses Etc. A Section On The Vaccines Available In All over the world Has Been Dealt With At Length To Give A Practical Approach To The Methods Of Vaccination, Methods Of Storage And Preparation Of Vaccines.
[expand title=" "]
[/expand]
Password:
pdflibrary.net