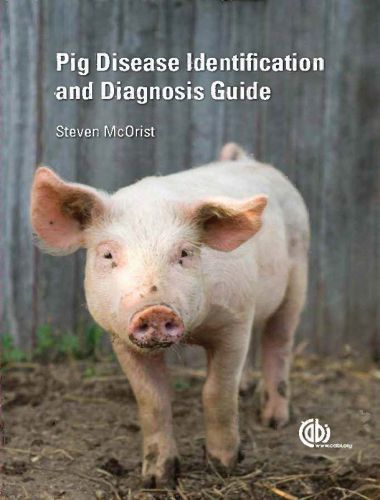 Pig Disease Identification and Diagnosis Guide
Pig Disease Identification and Diagnosis Guide
---
 By: Steven McOrist, October 2014, File Type: PDF
This book is comprised of 11 parts covering the most common diseases in pigs. It is aimed at pig farm managers and workers, pig industry personnel, veterinarians and veterinary students. Focus is given on the clinical signs, diagnosis and treatment of the diseases covered. Topics discussed include management problems on pig farms, deaths of pigs in the nursery area, deaths of finisher and older pigs, nervous signs in pigs, baby piglet problems, diarrhoea in pigs after weaning, sneezing and nasal discharges in pigs, coughing in pigs, lameness problems in pigs, fertility problems in pigs and skin and muscle problems in pigs.
The aim of this book is to enhance problem recognition skills on pig farms. The book contains a series of cases involving either management faults or a clinical sign on the farm, such as reproductive problems, diarrhoea, coughing or lameness. This format of personal engagement with a case study and questions, followed by some comments and further scientific thoughts, is now considered the best approach for readers to learn the intended problem-solving skills.
There are two main problems with this type of approach. First, providing a set of cases does not easily imply priority or prevalence. Diseases such as swine fever or pneumonia can be much more likely or more severe in some regions than others. So the reader has to also consider local prevalence – this information is gained from industry leaders and the diagnostic steps during an investigation. Download More: Handbook of Pig Medicine PDF
The second problem with this approach is the limitations of the static picture format for case illustration, as compared with viewing a case study in reality or on a video. Static pictures will never be particularly dramatic to illustrate pigs that are coughing, are lame or are showing nervous signs.
Pig farms are classified in this book as breeder farms or production farms. A typical pig farm system consists of three separate areas: (i) one for breeding practices (mating, gestation or pregnancy, farrowing and lactation); (ii) one for the weaning or nursery period from 3 to 10 weeks old; and (iii) a fattening or finishing area, where pigs grow from 10 weeks old to marketing weight.
[expand title=" "]
Book Name: Pig Disease Identification and Diagnosis Guide
Buy Now: Click Here
 Download Now: Click Here
Password: PDFLibrary.Net
[/expand]