Practical Atlas of Nutrition and Feeding in Cats and Dogs Volume 2
This second volume of the Practical atlas of nutrition and feeding in cats and dogs is focused on the basics of cat and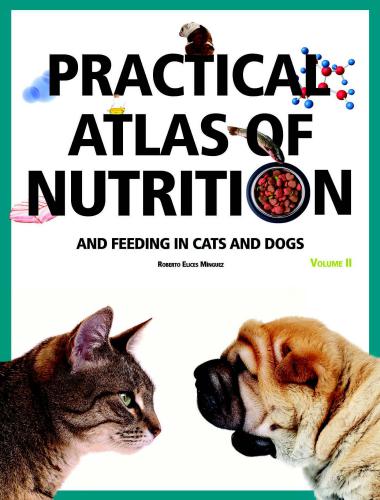 dog nutrition and food management at different life stages, such as pregnancy and lactation and the geriatric stage. It also addresses the specific needs of puppies and kittens as well as sporting dogs. This book, like Volume I, is made of a series of double-page spreads with comprehensive information and plenty of visuals that, by turning concepts into images, will enable its readers to further their knowledge on pet nutrition in a pleasant manner.

Who said that nutrition is boring? Not in this book! Here we have transformed nutrition into a series of graphic pages, with simple and concise text and several diagrams, drawings and images, by which the veterinarian can see all of the fundamental aspects of nutrition in dogs and cats. From digestive physiology and dietary behavior, the evaluation of body condition and morphometric measurements, to the characterization of the immediate principals and the description of the energy and nutrient requirements, this atlas is a succession of pages with an immense richness in information and visuals that will enable the reader to enjoyably deepen their knowledge about pet nutrition.
Are they being fed correctly?
We often wonder in our clinical practice if pet owners are feeding their pets correctly. The causes of extreme thinness or obesity
may be due to poor adjustment between the energy requirements (ER) and the food ration (R) or to incorrectly providing it.
The pet's feeding regime, any possible changes to said regime, and the pet's environment (vacation periods in open areas, presence of other pets, elderly people, or children, the owner's health, etc.), should be reflected in the animal's medical records. Various factors can affect the frequency and quantity of food offered.
[expand title=" "]
[/expand]
Password: pdflibrary.net