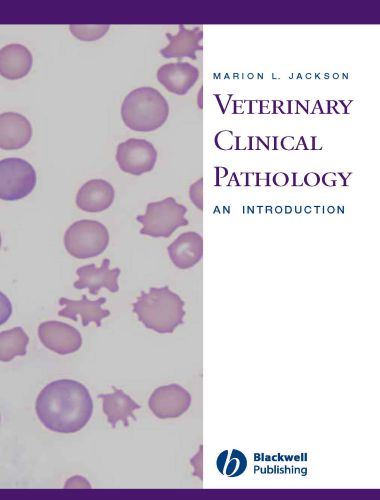 Veterinary Clinical Pathology An Introduction 1st Edition
Veterinary Clinical Pathology An Introduction
---
 by Marion L. Jackson 
January 2007
This textbook has evolved from the reading assignments for the undergraduate course and is intended to give the
student a sound knowledge base with which to work. The book is not heavily referenced other than with standard physiology, clinical pathology, and medicine textbooks, and is not intended to be a review of the current literature.

I have aimed for a clear, concise presentation of basic mechanisms without overwhelming the student. Cases at the end of each chapter (except Chapters 11 and 12) emphasize basic principles discussed in the text. The cases are real and, therefore, are not perfect. Not all results can be satisfactorily explained, which is true to life. Stu-dents are encouraged to interpret the case data on their own before reading my version.

Complete interpretations are provided even though the student may not be familiar with all laboratory data until completion of the book. It is expected that instructors using this book will provide additional cases from their own diagnostic service for class discussion and to challenge the students. Laboratory periods complement our course by affording the opportunity to learn practical aspects of per-forming a CBC, blood and cytology smear evaluation, and doing a urinalysis.

Unique among current literature as a rich source of clinical case material, this book can be used by veterinary students as a reader-friendly introduction to the subject and as the primary textbook in clinical pathology coursework. With its multitude of cases and images, the book is also a useful resource for faculty members to enhance instruction.

Get More: Case Studies in Veterinary Immunology

Veterinary Clinical Pathology: An Introduction aims to provide the veterinary student with a clear, concise overview of basic mechanisms without being overwhelming. Clinical cases enhance the learning experience. Having evolved from the reading assignments for veterinary medical courses in clinical pathology, this text aids in providing students with a sound knowledge base with which to work.
Reader-friendly textbook
Features innovative case-based approach
Provides clear and concise overview of basic mechanisms
Practical text for veterinary students, instructors and clinicians alike
Students, instructors, and veterinary clinicians seeking a concise, practical handbook will find Veterinary Clinical Pathology: An Introduction invaluable.
[expand title=" "]
Book Name: Veterinary Clinical Pathology An Introduction
File Type: PDF
Download: Link
Size: 10 MB
Password: PDFLibrary.Net
[/expand]