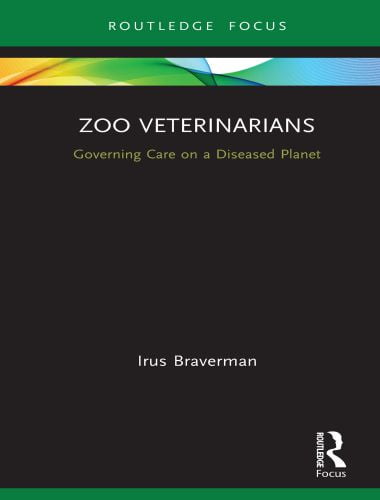 Zoo Veterinarians Governing Care on a Diseased Planet 1st Edition
Zoo Veterinarians Governing Care on a Diseased Planet 1st Edition
---
by Irus Braverman, Published October 2020, FileType: PDF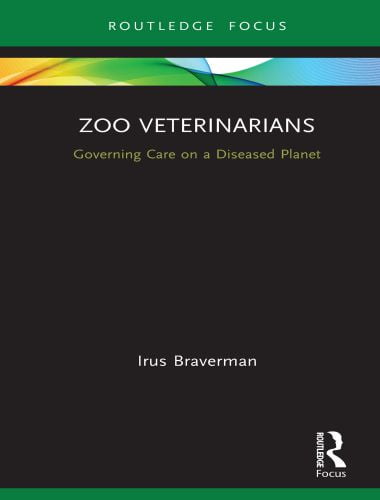 Despite their centrality to the operation of contemporary accredited zoo and aquarium institutions, the work of zoo veterinarians has rarely been the focus of a critical analysis in the social science and humanities. Drawing on in-depth interviews and observations of zoo and aquarium veterinarians, mainly in Europe and North America, this book highlights the recent transformation that has occurred in the zoo veterinarian profession during a time of ecological crisis, and what these changes can teach us about our rapidly changing planet.
Zoo vets, Braverman instructs us with a wink, have "gone wild." Originally an individual welfare-centered profession, these experts are increasingly concerned with the sustainability of wild animal populations and with ecological health. The story of zoo vets going wild—in their subjects of care, their motivations, and their ethical standards, as well as in their professional practices and scientific techniques—is also a story about zoo animals gone wild, wild animals encroaching the zoo, and, more generally, a wild world that is becoming "zoo-ified." Such transformations have challenged existing veterinary standards and practices. Exploring the regulatory landscape that governs the work of zoo and aquarium veterinarians, Braverman traverses the gap between the hard and soft sciences and between humans and nonhumans. Zoo Animals, Behaviour, Management, and Welfare, 2nd Edition
At the intersection of animal studies, socio-legal studies, and science and technology studies, this book will appeal not only to those interested in zoos and in animal welfare, but also to scholars in the posthumanities.
Irus Braverman's newest book is a marvel. In her characteristically eloquent and lucid style, she reminds us of our proximity, anatomically and ethically, to our animal brethren, including those with fins and gills.
Braverman's innovative ethnographic foray into the work of zoo and aquaria veterinarians could not be more timely. Zoo Veterinarians incisively underscores the need for global health frameworks to adopt a multispecies orientation that brings medicine into closer conversation with the social sciences to understand diseases and their possible cures. Immensely readable and thought-provoking, Zoo Veterinarians will appeal to scholars and lay readers alike.
Animal welfare―or conservation? Irus Braverman takes us behind the scenes in zoos and aquariums to witness the daily work of the ultimate general practitioner: the veterinarian who may daily need to treat a dozen different species. In an era of ecological crisis, she passionately argues the importance of interdisciplinary meddling and open conversation between experts and outsiders.
In this vividly written and deeply empathetic book, Braverman takes us on a journey into the world of zoo and aquarium veterinarians as they grapple with the scientific and ethical challenges of caring for wild animals in an increasingly human-made world. Inspiring and troubling in equal measure, Zoo Veterinarians shows us how necessary and how hard it is to balance the wellbeing of individual, species, and ecosystems, to engage responsibly with the fleshy materiality of diverse animals, and to build bridges between veterinary experts and all the rest of us who care deeply about the fate of wild animals.
In this original and uniquely perceptive book, Braverman delicately documents and examines the work of zoo and aquarium veterinarians, whether it concerns a supernumerary giraffe or a cross river puffer fish with skin problems. In doing so, she provides a wonderfully insightful account not only of veterinarians and animals but also of the practices, materials, bodies and concerns that bind them together.
Zoo veterinarians are a critical but poorly documented community at the heart of the modern zoo. With this engaging behind-the-scenes study, Braverman brings their work into the light, showing how these versatile professionals are also playing an increasingly important role in advancing wildlife and ecological health outside zoo walls. This book should be read by everyone who cares about zoos, animals, and the concerns and responsibilities shaping our shared welfare on the planet.
Available for Free Membership: –
| | |
| --- | --- |
| Book Name:  | Zoo Veterinarians Governing Care on a Diseased Planet 1st Edition |
| File Size:  | 6 MB |
| File Format:  | PDF |
| Download Link:  | Click Here |
| Password: | PDFLibrary.Net (if Required) |