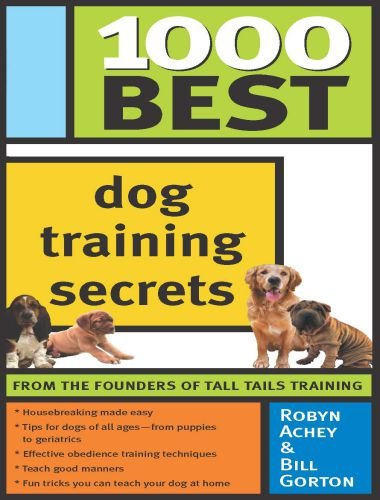 1000 Best Dog Training Secrets
1000 Best Dog Training Secrets
---
By Robyn Achey, Year 2006, FileType: PDF
As every dog owner knows, it takes a lot of time and patience to train a dog–whether she's a puppy or an adult dog learning new behaviors. 1000 Best Dog Training Secrets is packed full of useful training tips for new and seasoned dog owners from two experts in the field.
The easy-to-follow advice covers everything from basic skills to socialization, obedience training, manners, tricks and more. Robyn Achey and William Gorton, owners and operators of Tall Tails Training & K-9 Education school in New England, offer insight into handling dogs at all stages of development from brand new puppy to geriatric, so it's never too late to get started.
You will learn about:
— Establishing leadership
— Socialization–learning from human leaders
— Obedience training
— Developing life skills
— Teaching manners
— Dog etiquette
— Behavior problem prevention & solutions
— Toys, games & leisure activities
Raising an "obedient dog" requires more than just obedience training. As we tell all of our clients, there is a difference between having obedience "skills" and "being" obedient. Being obedient is about being dedicated to the "obedience lifestyle" in daily living. This journey begins with teaching good obedience skills.
In our book, 1000 Best Dog Training Secrets, we will reveal to you the secrets of raising an obedient dog and nurturing a positive relationship. Beginning with housebreaking and obedience training, through to behavior problem solving and even trick-training, we will give you the knowledge and skills to raise the best dog you will ever own!
Some of the secrets are "how to" secrets, some are "when to," and some of them are "why to" secrets. Other secrets are "practice secrets," "game plan secrets," and "real life secrets."  We include philosophy secrets in each section to give you the necessary knowledge for the rest of the process. Raising your dog is a process and a journey. The entire book echoes the process you will have in raising your dog.
The secrets in Section One outline the needs, requirements, and raising guides for your dog as he grows through the various stages of his life.
The secrets in Section Two establish your Leadership, teach you to use your Leadership role to Socialize your dog, and teach your formal Obedience Command Language.
Download More: Veterinary Anesthesia and Pain Management Secrets
This section is dedicated to the many, many ways the obedience command language is used to teach your dog how to live harmoniously in your household.
The secrets in Section Four are provided so both you and your dog will never be bored. Having a good time with your good dog is all about fun activities and making the most of them due to your foundation in the obedience lifestyle.
As professional dog trainers, we have learned that many different aspects of daily life influence behavior. We don't believe you should just view the training of your dog as a way to "fix" him or her, rather as a journey in building a friendship and a lifelong relationship.
Good training is not just for problem dogs. Therefore the secrets that we will divulge to you are everything from training concepts to training skills, raising tips to "rowdy-time" tips, and crate secrets to care secrets.
[expand title = ""]
Book Name:

1000 Best Dog Training Secrets

Buy Now

:

Amazon

, AbeBooks, ebay
 

Download Now

:

Click Here

Password

: PDFLibrary.Net
[/ expand]