Feline Behaviour and Welfare
Feline Behaviour and Welfare
---
By: Andrew Fraser, August 2012, File Type: PDF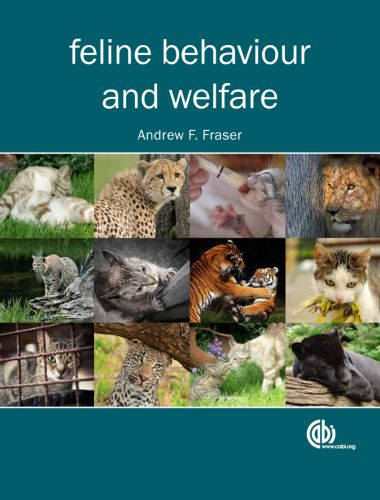 This book "Feline Behaviour and Welfare" consists of 14 chapters which is intended for students committed to the provision of health and well-being to cats, and also for those who are involved professionally or vocationally with cat care. Also to distinguish between domesticated and wild cats a glossary of behavioural and technical terms is provided at the back of the book to explain them. Topics includes: well-being and its roots, feline neuroethology, play and the steps through life, basic activities, association and reproduction, giant wild cats, principal species of wild cats, minor wild cat species, common and comparative feline features, abnormal behaviour and training, health monitoring, points of welfare, and review of well-being.
The overall well-being of the animals that are based in our society is gaining increasing amounts of attention. In response, the subject of animal welfare has developed into a major concern in the academic world. Animal welfare has now been incorporated in the study of veterinary medicine and other animal disciplines. The objective is to establish rational standards of animal care based on scientific observation, experience and basic empathy. A major, global problem in animal welfare pertains to the destruction of millions of unwanted or mistreated cats. Our concern for these animals can be improved by a better awareness and acceptance of their origins and essential natures.
Of all the domestic animals, the one whose nature has been least understood is the ordinary housecat. Even today, this principal pet is often subject to homelessness through failure to appreciate its nature and its inherited customs. In basic cat care there is much that is not in keeping with the fundamental nature of this animal. As a result there is a high displacement rate in urban cats. Animal shelters cope with great numbers of unwanted cats and kittens. In many cases it is the behaviour of these animals that is unappreciated and this is because of the misunderstanding of their natural ways. Many cats in animal shelters require to be euthanized and this constitutes a major issue in animal welfare. Download: The Chicken Health Handbook 2nd Edition PDF
The remains of cats from earlier times have been found in other places of human habitation. A few incidents of wild cats being tamed and kept in human custody do not create a new domestic species. The species of Felis sylvestris catus did not become established until there was a substantial body of tamed cats breeding together in perpetual human custody.
[expand title=" "]
Book Name: Feline Behaviour and Welfare
Buy Now: Click Here
 Download Now: Click Here
Password: PDFLibrary.Net
[/expand]