Non-Bovine Milk and Milk Products
Non-Bovine Milk and Milk Products by Effie Tsakalidou, Konstantinos Papadimitriou, Strictly speaking all mammals are dairy animals. However, only some of them have been domesticated.
Non-Bovine Milk and Milk Products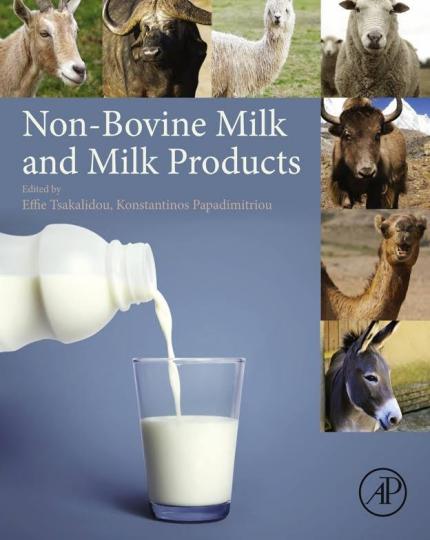 Domestication of dairy animals has mainly evolved on the basis of the regular production of a sufficient quantity of milk to cover human nutritional needs. The ability of dairy animals themselves to adapt to specific geographical areas and patterns—which shape climate conditions as well as the flora and fauna diversity of a region—has also determined the prevalence of certain breeds in different regions of the world. This, in turn, has determined the evolution of local pastoral systems and practices, given that livestock management is closely linked to the natural resources available in different regions.
The ease of transforming milk to dairy products, such as fermented milk, cheese, and butter, gradually became the foundation for local practices and skills and thus of local dairy culinary traditions in various regions around the world. It should be stressed, however, that these opportunities are often accompanied by the limitations of human skills, socioeconomic factors as well as religious beliefs. These limitations have historically been the parameters that have determined which dairy products have survived throughout time.
Although the dairy cow has been the predominant domesticated animal species for milk production, sheep, goat, water buffalo, yak, camel, and mare as well as other minor mammalian species have also been domesticated. These animals have been kept and bred for milk production not only in developed countries but also in regions around the world where the environment required special adaptation and for which many of the noncow mammals are better suited. As a result, cow milk dominates global milk production and represents 83% of the world's total milk production.
In addition to cow milk, buffalo milk makes a substantial contribution at the global level, accounting for 13% of the world's production. The contribution of milk from goats (2.6%), sheep (1.2%), and camels (0.4%) is limited at the global level. For other animal species, such as horses, donkeys, and yaks, no world-scale statistics are available but their contribution to global milk production is estimated to be less than 0.1%. Additionally, a marginal production of reindeer and llama milk is reported in the literature and even some wild species, such as zebra or eland, are described as potential dairy animals.
[expand title=" "]
[/expand]
Password: pdflibrary.net